When I tell my student's parents that "this weekend I have Suzuki-Teacher-Training-Course", I realize that most of them don't really understand what I am going to do. For this reason, in this article I'll try to explain in which consists a Suzuki-Teaching-Training for we, the Suzuki teachers.
I supose you all know some of the benefits and basic concepts of Suzuki's pedagogy: to learn an instrument as it was the mother language; group and individual lessons are in the same way important for the learning; the engagement of the parents with their children and teacher etc.
But... What how do we become oficially into Suzuki teachers? That's a good question, which besides has a labourious answer!
Almost all the countries in Europe have a Suzuki National Federation, which at the same time are members of the European Suzuki Association. Their principal role/commitment  is to preserve the legacy of Dr. Shinichi Suzuki by publications, as well as to organise different activities such as workshops or conferences, and to get in touch students and teachers who follow this pedagogy. Part of their activity is to organise Teaching-Training-Courses, in order to give them instruction by the Suzuki-Method.
In Germany (where we do currently our training), this is structured in five levels:
- Level 1: Book 1
- Level 2: Book 2 and 3
- Level 3: Book 4 and 5
- Level 4: Books 6 and 7
- Level 5: Book 8, 9 and 10
Depending on the country you do your Training, it takes more or less to pass each level. In the Suzuki German Federation, each one is supposed to be succeeded in one year, so in general a full Suzuki-Training lasts for five years (one year per level).
ACADEMIC YEAR = ONE LEVEL
And what do we actually do every "academic year"? Many, many things!
1. weekend courses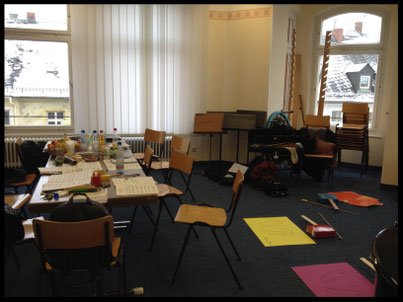 Every month or month and a half we travel to Hof (Nord Bavaria) to the Suzuki Academy, where the courses take place. The duration of each one is normally 10 hours, so it's usually divided in two days (Saturday afternoon and Sunday morning). The Weekend-Courses are the most important part of our training and the most interesting for our liking. Normally we have to attend between six and eight courses per academic year.
What do we do? All the students of the same level analyze each piece of the corresponding books of the level we're preparing, with the help of our teacher trainer. We learn the teaching points and goals of each song (yes, EVEN Twinkle-Twinkle!).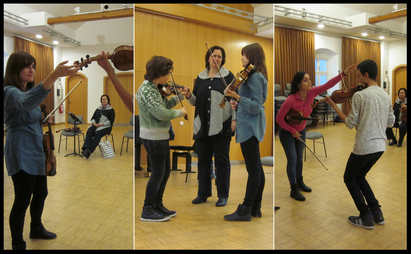 We study not only the technical and musical skills, but also how to explain it to a child. This means we need to study in depth the psychology and the mobility of children at different ages in order to make them to assimilate it the faster.
We also have the amazing opportunity to make teaching tests. What is this exactly? We teach to children different pieces of the level we're preparing and our teacher trainer gives us a feedback after it.
2. to WRITE A WORK AND A DISSERTATION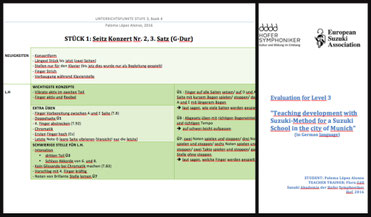 We need to write all the teaching points of the books we're preparing in our level from three different points of difficulties: left hand, right hand and musical skills. We also have to indicate where are the most difficult excerpts and how to handle them in the lessons.
The dissertation consists in a short work about something we enjoy or like in the Suzuki Philosophy. The objective is to broaden our educational experience through this dissertation.
3. to ATTEND TO SUZUKI WORKSHOPS AND INDIVIDUAL LESSONS BY SUZUKI TEACHERS
If we want to turn into Suzuki teachers, it's obvious we need to see other mates in action! That's why we have to observe a Suzuki Workshop as well as individual lessons from another Suzuki teacher.
In the last two years we've gone to Preetz (North Germany), Mürrzuschlag (South Austria) and Weimar to watch  different workshops. Besides,  we saw the fantastic individual lessons of the well-known teachers Veronica Kimiti in Ingolstadt, Christopher Bossuat (France) and Masako Sakai in Bamberg.
4. LITERATURE ABOUT THE SUZUKI PEDAGOGY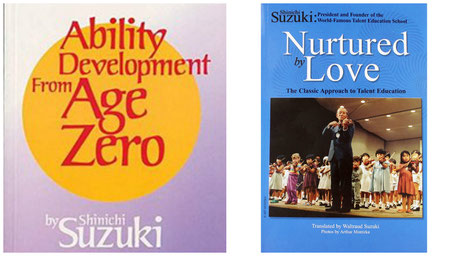 The Man and His Philosophy, Nurtured by Love, Ability Development from Age Zero etc., are some of the many works about the Suzuki-Method.
5. CONFERENCES AND COURSES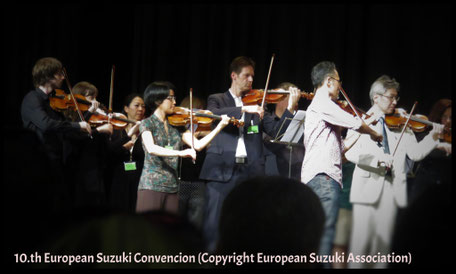 Usually every year the German Suzuki Association organizes a Teacher Conference in Hof or Berlin. Very well-known Suzuki teachers host different topics of discussions, as well as another methods, advances in pedagogy, masterclasses with professional violinists etc.
6. final exam
Our goal and the end of every academic course, because every level needs to be succeed by an exam. An international examining board decides if we pass the level we've been preparing the whole academic year. Normally it takes place in month of November, in the Suzuki Academy in Hof. The exam consists in three parts:
1. Playing
For every level we prepare two pieces and we perform them in front of the board. This sounds relative easy, but actually it's not: we have to play it with "children technique". What means this? We're not allowed to play as soloists, but as a child did his best. So we can't play Twinkle-Twinkle with vibrato or a very relaxed bow posture, because a three-years-old child is not going to reach it.
2. Teaching
The examining board chooses one or two songs of the level we're examining for. We teach a child and they observe if we're able to do it. This means we have to learn by memory all the teaching points and to react fast to the student's difficulties.
Another added difficulty is that we have to learn by memory all the songs of the books from the level we're preparing (which sometimes is hard, because we must learn more than one full concert). This means that, for example, for the level 3 we have to memorize all the songs of books 4 and 5 (Vivaldi G-minor and A-minor full concerts, the three Seitz concerts, Perpetual Motion, Gavotte and so on).
3. Oral exam
The examining board asks us about teaching points, some specific aspects (for example: how develops Suzuki the use of spicatto from Book 1 to Book 4?), our experience by attending workshops etc. Sometimes we even have to show on the violin some required aspects they ask in particular.
If we pass, we receive a certificate, which proves that we're qualified to teach by Suzuki Method in that level.
Well! I told at the top of this article that we have to do many things for our Suzuki Training. Although it is a lot of work, at least we enjoy it very much and the most important: we learn to be better teachers.
Paloma López Alonso